Jul
3
"I don't remember when it's been this close with the top five," Courtney Conlogue says over the phone. She's at home in Santa Ana, Calif., prepping for the upcoming Roxy Pro Biarritz — the sixth of seven stops on the ASP Women's World Tour. Approaching last year's Roxy Pro, a staggering reversal of fortune was the single potential threat to Carissa Moore's world title. This year, the top five women all have reasonable claims, if arduous paths, to the throne. Currently ranked fourth, Conlogue is just 600 points behind Moore and 900 ahead of Tyler Wright. "Usually, the top two run away with it, but it's still anyone's game," she continues. "It's definitely going to be a nail-biting finish for that world title."
With a fondness for ice cream and a jocular, compassionate nature, the 19-year-old Tour sophomore appears non-threatening. That makes her an even bigger threat. Remember: The most merciful hunters strive for clean kills.
Since March, Conlogue has taken out two 6-stars and the World Tour's Commonwealth Bank Beachley Classic in Sydney.
"I definitely want that world title and I'm really striving for it," she says, "but I think pressure buckles a lot of people. I think just doing what I've been doing and building on that is the best way to go, versus really stressing myself out and trying to leap too far."
She doesn't designate a single arch rival on Tour. Of the top five, she says, "They're all pretty amazing. Actually, all of the girls have been performing really great this year and I don't think you can underestimate any of them. Everyone's looking like they really want it."
Men often seem astonished that the Top 17 are capable of shedding their competitive animosity upon completing heats. "Sally is a dear companion of mine," Conlogue says of second-rankedFitzgibbons, "She's so much fun to be around. She and Tyler together are classic. And Steph's just an all-around great person."
Battling your close friends for something as momentous as a world title certainly has its challenges, but Conlogue manages to draw motivation from her pals' (opponents') successes. "Sal's Spiderwoman and I'm the Green Lantern," she says, "so we can't let each other down. One of us has to survive!" The nicknames come from their wetsuits, red and electric green, respectively.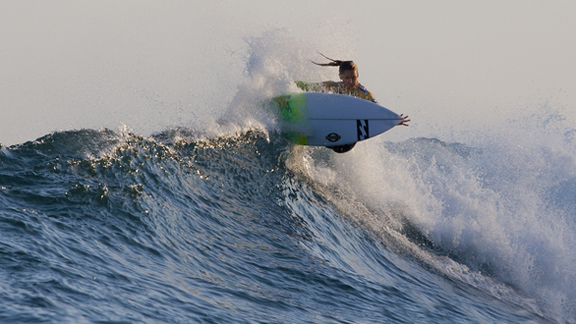 ASP/KirstinConlogue says she's been working on those power turns.
Conlogue has armed herself against backsliding in the ranking with her notoriously grueling training regimen. While at home, she surfs for a few hours every day — often with her shaper, Tim Stamps, so that he can analyze her quiver performance.
"I've been working on those power turns that throw tons of spray and are amazing to watch, and on my aerial 'repertoire' — however you want to say it," she adds with an endearing, self-mocking tone, "I always want to maintain power, but fluidity within the power so it doesn't look like I'm slashing the wave with a machete or something. And making everything just a little more spicy."
The waves at Huntington don't always make for perfect practice ramps, but small-wave experience may prove an advantage in the upcoming events. The Biarritz sites are essentially beach breaks and at the U.S. Open is actually held at her training ground. "I think if you can surf a small beach break, it'll translate onto a bigger wave," she says.
In addition to surfing, Conlogue attacks daily 90-minute workouts with Paul Norris and Jon Brown at Extreme Athletics in Costa Mesa. Her current training partner is her younger brother, who's gearing up for high school football. They push each other through agonizing, yet oddly enjoyable routines that make even the world-class surfer's arms rubbery.
"My brother has this t-shirt that says 'PCBF,' which means 'pain can be fun,'" Conlogue laughs. "We were doing the most gnarly planks and balancing exercises and I started laughing so hard, because I was thinking about 'PCBF.'"
This is the reason why many perceive Courtney Conlogue as, first and foremost, intense.
"Maybe from the outside, everyone thinks I'm just this gnarly –" she pauses, "Like I'm always in the gym and don't do anything but train all day. I do a lot of other stuff, too. I love my art and my paintings. I'm very creative and I'm actually really mellow. I'm just energetic, and my way to use up my energy is training. I am serious to a point, but I'm always trying to have fun."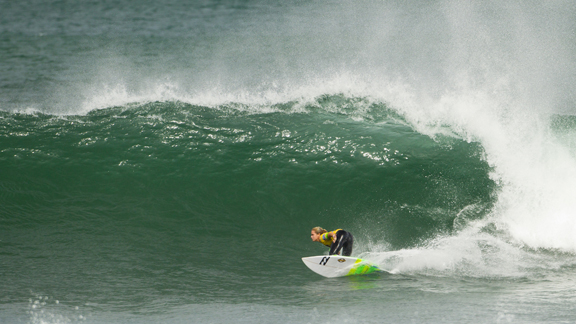 JoliConlogue says she only looks intense on the outside. She loves art and is actually a mellow person.
Conlogue believes that as the current elite women enhance their surfing, we can expect a ripple effect. "The other day, I went out surfing at like 7 a.m. and there were 10 women in the water, and young girls," she says. "They were trying to throw full snaps and stuff. I had never seen that before — not at Huntington, at least."
Our society, and the sports world, in particular, heralds Top Threes. In the hierarchy of women's surfing, the three names at the top of the ranking seem to stand apart from the remainder of the Top 17: Gilmore, Fitzgibbons, Moore.
But the thing is, they don't. Current number one Steph Gilmore says, "Courtney's personal commitment and athletic approach to surfing are admirable. She has professionalism in her approach that will gain her more Tour event wins. She is powerful on the wave and isn't scared to commit to difficult sections. You can never count her out."
"Winning the World Title is a big goal of mine and that's definitely in my sights right now," Conlogue says, "and it will be until I get it."
Top three be warned. The Roxy Pro Biarritz kicks off July 10